Trans-Siberian Travel Route
---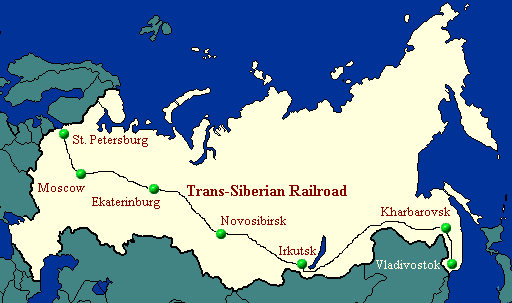 Did you know?
Running for the most part straight across the country, there was a large kink built into the original Trans-Siberian Railway. As he drew up the plans for the railroad the dictatorial Tsar of Russia accidentally traced a small nick in his ruler as he drew a line across his nation. The timid planners built the track exactly as it was drawn, too terrified to point out the Tsar's error.
Did you know?
The Russian word for Railway station is "voksal", derived from the English railway station Vauxhall. It is believed to be a mistake made by visiting Russians being introduced to the railways for the first time in the 1830s and assuming this was what all stations were called.
Did you know?
Before the Trans-Siberian Railway was built the quickest way to travel between the Russian cities of St Petersburg and Vladivostok was by crossing the Atlantic, travelling by land across North America and then going across the Pacific Ocean.