Special Assistance Guide for Passengers with Reduced Mobility
---
This guide has been compiled for passengers with reduced mobility flying from or to a UK airport. We have put all of the PRM airport guides together to make it easier for you find the one you are looking for and bookmark it for future use.
In this guide you will find a dedicated page about the special needs and disabled facilities at each of the UK's major airports including who to call and how far in advance you should book special assistance before travelling, how to access the Blue Badge parking and each airport's specific facilities set up to cater for those with special needs.
Special Assistance Guide for Passengers with Reduced Mobility from eGo.net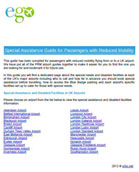 Special needs and disabled facilities at UK's major airports;
Contact numbers of special assistance service providers for each airport;
Locations of Help points;
Car parking facilities for people with disabilities;
Type of Special Assistance signage used within the airport;
Information for people using assistance dogs.
Download the PDF [984 kB]
If you would like to post the guide on your website, blog or wiki, we kindly ask that you include a link to eGo.net. Thank you.
The Rights of Passengers with a Disability or People of Reduced Mobility (PRM's)
Any airline passenger who requires extra assistance due to a disability, illness or reduced mobility is entitled to it by European law. This includes those that need extra help due to mobility issues, age, illness, sensory disabilities, learning or psychiatric disabilities. In addition those who require extra help due to a temporary injury or illness, for example a broken bone, are also entitled to it.
There are a number or ways that you may receive this extra assistance at the airport including:
Transport through the airport with the use of a mobility aid
A guide to assist those with a visual or sensory impairment
Help to reach check in
Help with registration once you reach check in
A lift to the aircraft doors
Assistance with baggage
Medical equipment and up to two items of mobility equipment carried free of charge by the airline
If you do require special assistance it is important to let you airline know at least 48 hours before you are due to fly, so that the best level of assistance can be provided for your individual needs. You may also need a medical certificate from your Doctor showing that you are fit to fly, so ensure you check with your airline within plenty of time.
Flying Alone
If you have reduced mobility or a disability and are travelling alone it is important to be aware that there are a number of thing you must be able to do yourself, for example you must be able to unfasten your own seat belt and provide your own personal care. You must also be able to understand safety instruction given by cabin crew, put on an oxygen mask or life jacket, leave your seat and make your way to an emergency exit in the event of an incident or emergency situation. If you do require assistance with any of the above, including using medication, eating or using the WC you will be required to travel with a companion who can help you. Depending on which airline you use, your travel companion may be offered a reduced fare.
Flying with a Wheelchair and other Mobility Aids
Airlines are required by FAA safety regulations to allow air passengers who travel with a mobility aid or wheelchair to carry these mobility devices. It is advisable to contact your airline as soon as possible to inform that you will be travelling with a mobility aid or device so that they are able to book you an aisle seat. This will make it easier for you to get up and down the aisle. An aisle mobility chair can be used to assist you, as these are specially designed to be wheeled up and down the aisle of a plane.
If your own wheelchair is a smaller or folding model, or if you carry a cane or other walking aid, it may be stored in the passenger section of the plane rather than in the hold. If your wheelchair or mobility device is too large to fit in the passenger section then it will be carried in the hold. Wheelchairs are given priority and will be the first items to be unloaded from the plane. Battery operated or electric wheelchairs are subject to further regulations, as batteries are considered dangerous material and could be hazardous. It is essential to check with your airline regarding battery operated wheelchairs.
Travelling with an Assistance Dog
Disabled air passengers travelling with assistance dogs are entitled do so, as long as it been registered as a Recognised Assistance Dog and has been trained by members of Assistance Dogs UK (www.assistancedogs.org). Your assistance dog will also need to comply with the regulations of the Pet Travel Scheme, which is run by the Department for Environment, Food and Rural Affairs (DEFRA). It is advisable that you inform the airline when booking your flight that you will be travelling with your assistance dog so that the necessary arrangements can be made.
Special Assistance and Disabled Facilities at UK Airports
Please choose an airport from the list below to view the special assistance and disabled facilities information.
Aberdeen Airport
Belfast International Airport
Birmingham Airport
Blackpool Airport
Bristol Airport
Cardiff Airport
Durham Tees Valley Airport
East Midlands Airport
Edinburgh Airport
Exeter Airport
Glasgow Airport
Humberside Airport
Inverness Airport

Leeds Airport
Liverpool Airport
London City Airport
London Gatwick Airport
London Heathrow Airport
London Luton Airport
London Stansted Airport
Manchester Airport
Newcastle Airport
Norwich Airport
Glasgow Prestwick Airport
Robin Hood Airport
Southampton Airport